Category: High Pressue & CNG Filters
Product Code: 500-6000 PSIG Pressure Filters

500 PSIG Pressure Filters
FFC-110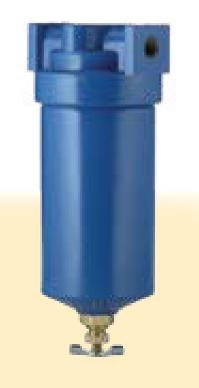 Many CNG powered commuter vehicles, such as shuttle buses, taxis or vans, rely on FFC-110 filters to protect contaminants in the fuel tank from entering the engine.
Finite's FFC-110 is often used onboard CNG (compressed natural gas) powered vehicles to prevent contaminants in the fuel tank from getting into the engine, protecting critical engine components, like fuel injectors. Its small size allows for versatile installation and easy servicing. Each housing is powder painted for long-term corrosion protection. These coalescers are ideal for operating environments up to 500 PSIG. Coalescing efficiencies of 95% (grade 10) or 99.97% (grade 6) can be chosen to match the filter to the application. Both the FFC-110 and FFC-110L have an 1/8" NPT drain port with a brass petcock manual drain.
SN8S

Bottling plants uses stainless steel system components for their critical processes. In applications where stainless steel is required, use the SN8S to remove contaminants from your compressed air or gas system.
Finite's 500 PSIG SN8S filter is the best solution for most critical or corrosive compressed air/gas applications. Its 2" NPT stainless steel housing is a perfect fit for food processing, bottling plants and pharmaceutical manufacturing, where stainless steel system components are required. Bulk liquid from gas separation, oil coalescing, particulate removal and vapour adsorber filter elements are available. The housing has a plugged 1/4" NPT drain connection. The optional ADS- 50 (see page 89) stainless steel auto drain can be easily connected with standard pipe fittings.
800 PSIG Pressure Filters
M-Series

PET bottle blowing plants rely on he filtration protection of the M-Series to meet stringent standards for contact with food and beverage containers.
Finite's M-Series provides the needed filtration for a wide variety of compressed air/gas applications. Varied porting and connection styles, along with a robust design make this an extremely versatile filter.
It is a perfect fit for interstage filtration applications for multistage, high pressure gas compressors. The aluminum heads and drawn aluminum bowls are compatible with special gases such as argon, hydrogen, compressed natural gas and helium. This housing design minimizes the problem of porosity often present with housings made by die casting.
1000 PSIG Pressure Filters
A*R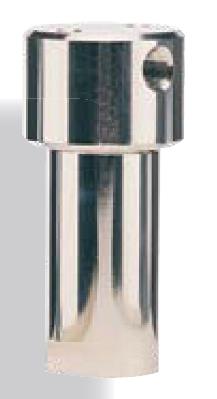 This robust but lightweight aluminum housing is designed especially for bypass gas sampling of specialty gases.
This lightweight, 1000 PSIG filter is constructed of aluminum and offers your choice of high efficiency articulate and coalescing filter elements. This product can be used for CNG or specialty gas applications. The A*R includes a drain port with a plug. The connection size of the drain port matches the inlet and outlet connection size, making it ideal for bypass gas sampling.
*specify part number A5R for 1/8" NPT connections or A1R for 1/4" NPT connections.
1200 PSIG Pressure Filters
SM-Series

Critical gas processing applications at elevated pressures rely on the SM-Series to provide clean, contaminant-free gas in corrosive environments.
Finite's stainless steel SM-Series housings areperfect for higher-pressure applications in corrosive working environments. Coalescing, particulate and adsorption filters are available. A threaded collar enables the user to easily remove the bowl for servicing, without having to remove the drain fitting and connections. The SM-Series has an SAE-4 drain port with plug.
3600 PSIG Pressure Filters
FFC-112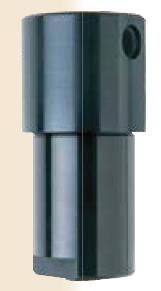 CNG powered vehicles such as airport shuttles and taxis use FFC-112 filters, which are installed on these vehicles. They protect critical engine components from contaminants present in CNG fuel.
CNG powered engine components such as fuel injectors and pressure reducing valves require contaminant free air. Submicronic solid or lubricant aerosols may carry over during CNG compression. Contaminants can also be generated in the storage and distribution of the natural gas,and may eventually enter the vehicle's storage tank. Both 1/4" NPT and 9/16" SAE connections are available on this 3600 PSIG rated assembly. The machined aluminum housing is anodized to enhance durability. It's robust yet small, lightweight size allows for versatile installation and easy servicing.
FFC-113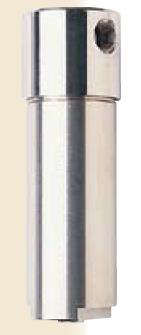 Many large CNG powered vehicles, such as buses used in city transit systems rely on FFC-113 filters, which are installed onboard the vehicle itself. They protect critical engine components from contaminants present in alternative fuel gas systems.
The FFC-113 is a popular filter choice onboard alternative fuel vehicles. Tiny solid and liquid contaminants can foul critical engine components, diminishing engine performance. These contaminants are typically generated during the compression, storage, and dispensing of alternative fuel gases like CNG. The FFC-113 removes sub-micronic contaminants with removal efficiencies from 95% to 99.97% ensuring long service intervals for components like fuel injectors.
Its robust 303 stainless steel construction and 3600 PSIG design pressure and relatively light weight combine to provide a unit that will withstand the harsh operating environments found on heavy duty vehicles like buses and trucks. It is supplied with 1/2" NPT connections and is designed for flows exceeding 1550 SCFM at 3600 PSIG.
5000 PSIG Pressure Filters
S*R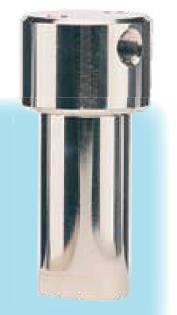 These robust, corrosion resistant filters are ideal for ultrafine filtration of specialty gases..
Measuring only four inches in height, these filters are ideal for bypass gas sampling applications. The drain port (plugged) connection size matches the inlet/ outlet connection size. The corrosion resistant materials used for this model lend themselves to extreme operating environments.
*specify part number S5R for 1/8" NPT connections or S1R for 1/4" NPT connections
S1IL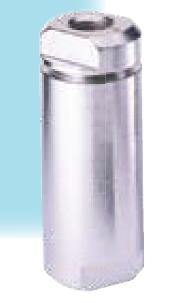 The S1IL is often used on specialty gas analyzers or to remove particulate contamination from bottled ases.
Finite's S1IL particulate filter is typically applied in bottled gas applications or for sample preparation on
gas analyzing equipment. It does not have a drain port and should only be used when little or no liquid contamination is expected. Though small in size, the S1IL is perfect for applications with elevated pressures or corrosive atmospheres and offers the availability of a high temperature element.
Three high efficiency particulate elements are available for temperatures rated up to 400°F.
FFC-116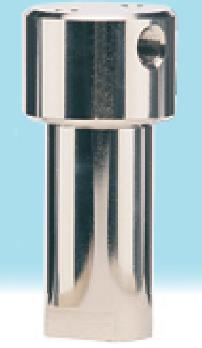 Many CNG powered commuter vehicles, such as shuttle buses, taxis or vans, rely on FFC-116 filters to protect contaminants from fouling fuel injector systems. Both solid and liquid contaminants can enter the system from various sources.
This stainless steel filter is commonly used to filter oil, water and particulate from lower flow CNG systems and onboard CNG vehicles. Its small size allows for installation versatility and ease of servicing. The 316 stainless steel construction resists corrosion. Its 5000 PSIG design enables it to be used on the high pressure side of a CNG system, protecting both the regulator and the fuel injectors. The sump capacity is 0.25 oz. (7.4 cc) for fluid contaminants, which can be drained through a plugged 1/4" NPT drain port.
6000 PSIG Pressure Filters
SJ-Series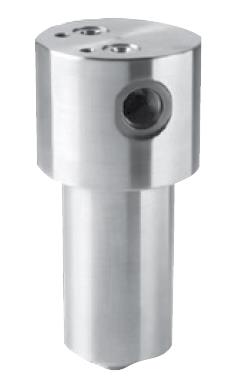 This robust, stainless steel filter is rated for working pressures up to 6000 PSIG, which makes this the filter of choice for extremely demanding applications. The SJ-series comes in a variety of port sizes and types, reducing the need for extra piping or the use of adapters in your application. The ¼" drain port allows the user to drain all oil from the assembly prior to servicing, eliminating possible cross contamination and leaving a cleaner environment. Use this filter for your offshore applications, water fogging, caustic washdowns (food processing) or on high pressure test stands. A wide variety of filter element media grades and styles means that your application needs will be efficiently met.