Category: Dryers
Product Code: Compressed Air Hollow Fiber Membrane Dryers

FMD-Series Hollow Fiber Membrane Technology
Finite®, the world leader in coalescing media development, has combined its proven coalescing ltration with a modern alternative to pressure swing and refrigerant dryer technologies.
Finite®'s membrane dryers are available in 10 models which can supply clean, dry compressed air with dewpoints as low as -40°F (@10 SCFM) and +35° F (@40 SCFM).
These membrane dryers are engineered for easy installation, minimal maintenance, and long term reliability.
How It Works:
The water vapor in the compressed air is removed by the principle of selective permeation through a membrane. The membrane module consists of bundles of hollow membrane "bers, each permeable to water vapor. As the compressed air passes through the center of these "bers, water vapor permeates through the walls of the "ber. A small portion of the dry air (purge !ow) is redirected along the outside of each hollow "ber, carrying away the moisture-laden air which is then Exhausted to room atmosphere. The remainder of the dry air is piped to the application.
NOTE: In all cases a Grade 10 pre"lter and a Grade 6 coalescer are installed upstream of the dryer module for 99.9985% removal of oil aerosols and mists.
Applications
Air bearings
Analytical instrumentation
Coordinate measurement machines (CMM)
Dental air
Dry air for hazardous areas
Electrostatic painting
General laboratory air supply
Laboratory grade air
Laser and optical purge
Low dewpoint instrument air
OEM machine builders
Pneumatic equipment
Prevention of air line freeze ups
Purge air for electronic cabinets
Purge air for moisture sensitive coatings and adhesives
Features

Advantages

Benefits

No moving parts

Quiet

Designed for point of use

Continuous operation

Differential pressure indicator on selected models)

Hollow fiber technology

Non oxygen depleting membrane fibers

Nothing to wear out

Can be installed anywhere

Lightweight

No waiting for media changeouts

Indicates when filter element should be changed

No electricity

No U.L. approval required

No refrigerants

Low dewpoints

Only water vapor molecules are allowed to pass through fiber walls

Less downtime

Perfect for point-of-use applications

Ease of installation

Less downtime

Dryer protection insurance

Low operating cost

OEM cost savings

Environmentally friendly

Prevents freezing

Dryers can be used in medical, dental and breathing air applications
Part Number FMD35-006 (+35° F Dewpoint Dryers)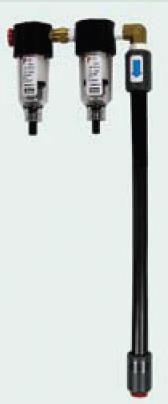 Specifications:
Width
Height

5.5" (14. 14.5"
(36.83 cm)00 cm)

Port Size

1/4" NPT

Min./Max.
Inlet Pressure

60/150 PSIG
(4.1-10.3 bar)

Ambient/Inlet Temp
Range

40o-100o F
(4.4o-37.8o C)

Purge Flow
@ 100 PSI

0.25 SCFM
(0.43 NM3/H)

Pre-coalescer Part #
Replacement element:

Q1S-10HM06-013
10HM06-013

Coalescer Part #
Replacement element:

Q1S-6HM06-013
6HM06-013

Weight

0.7 lbs. (.38 kg)
Part Number FMD35-015 (+35° F Dewpoint Dryers)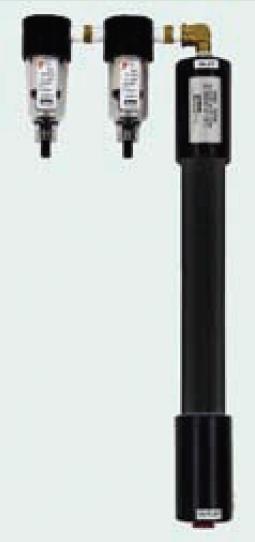 Specifications:
Width
Height

6.5" (16.51 cm)
15" (38.10 cm)

Port Size

1/4" NPT

Min./Max.
Inlet Pressure

60/150 PSIG
4.1-10.3 bar)

Ambient/Inlet Temp
Range

40o-100o F
(4.4o-37.8o C)

Purge Flow
@ 100 PSI

0.5 SCFM
(0.85 NM3/H)

Pre-coalescer Part #
Replacement element:

Q1S-10HM06-013
10HM06-013

Coalescer Part #
Replacement element:

Q1S-6HM06-013
6HM06-013

Weight

1.9 lbs. (.86 kg)
Part Number FMD35-060 (+35° F Dewpoint Dryers)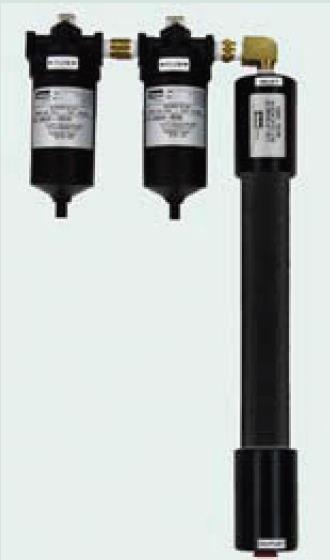 Specifications:
Width
Height

10" (25.4 cm)
22" (55.88 cm)

Port Size

1/4" NPT

Min./Max.
Inlet Pressure

60/150 PSIG
4.1-10.3 bar)

Ambient/Inlet Temp
Range

40o-100o F
(4.4o-37.8o C)

Purge Flow
@ 100 PSI

1.5 SCFM
2.55 NM3/H)

Pre-coalescer Part #
Replacement element:

HN1S-10CW
10C10-025

Coalescer Part #
Replacement element:

HN1S-6CW
6C10-025

Weight

5.2 lbs. (2.36 kg)
Part Number FMD35-100 (+35° F Dewpoint Dryers)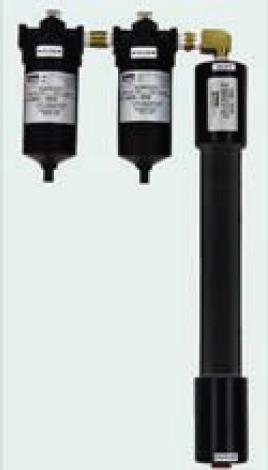 Specifications:
Width
Height

11.5" (29.21 cm)
22" (55.88 cm)

Port Size

1/2" NPT

Min./Max.
Inlet Pressure

60/150 PSIG
4.1-10.3 bar)

Ambient/Inlet Temp
Range

40o-100o F
(4.4o-37.8o C)

Purge Flow
@ 100 PSI

3.5 SCFM
(5.95 NM3/H)

Pre-coalescer Part #
Replacement element:

HN2S-10CW
10C10-025

Coalescer Part #
Replacement element:

HN2S-6CW
6C10-025

Weight

7.1 lbs. (3.22 kg)
Part Number FMD35-400 (+35° F Dewpoint Dryers)

Specifications:
Width
Height

14" (35.56 cm)
38" (96.52 cm)

Port Size

1/2" NPT

Min./Max.
Inlet Pressure

60/150 PSIG
4.1-10.3 bar)

Ambient/Inlet Temp
Range

40o-100o F
(4.4o-37.8o C)

Purge Flow
@ 100 PSI

6 SCFM
(4.2 NM3/H)

Pre-coalescer Part #
Replacement element:

HN2L-10CW
10C10-050

Coalescer Part #
Replacement element:

HN2L-6CW
6C10-050

Weight

18.9 lbs. (8.57 kg)
Part Number FMD40-001(-40° F Dewpoint Dryers)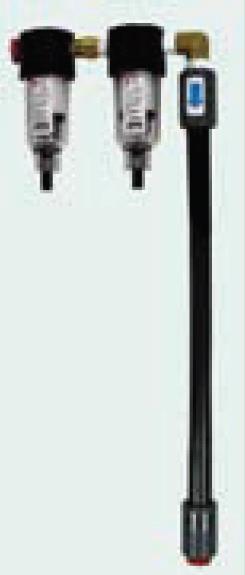 Specifications:
Width
Height

5.5" (14.00 cm)
14.5" (36.83 cm)

Port Size

1/4" NPT

Min./Max.
Inlet Pressure

60/150 PSIG
4.1-10.3 bar)

Ambient/Inlet Temp
Range

40o-100o F
(4.4o-37.8o C)

Purge Flow
@ 100 PSI

0.25 SCFM
(0.43 NM3/H)

Pre-coalescer Part #
Replacement element:

Q1S-10HM06-013
10HM06-013

Coalescer Part #
Replacement element:

Q1S-6HM06-013
6HM06-013

Weight

0.7 lbs. (.38 kg)
Part Number FMD40-002 (-40° F Dewpoint Dryers)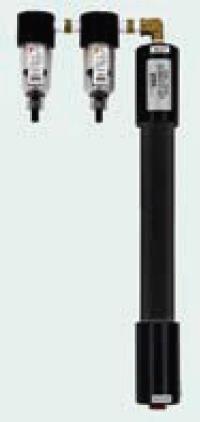 Specifications:
Width
Height

6.5" (16.51 cm)
15" (38.10 cm)

Port Size

1/4" NPT

Min./Max.
Inlet Pressure

60/150 PSIG
4.1-10.3 bar)

Ambient/Inlet Temp
Range

40o-100o F
(4.4o-37.8o C)

Purge Flow
@ 100 PSI

0.2 SCFM
(0.34 NM3/H)

Pre-coalescer Part #
Replacement element:

Q1S-10HM06-013
10HM06-013

Coalescer Part #
Replacement element:

Q1S-6HM06-013
6HM06-013

Weight

1.9 lbs. (.86 kg)
Part Number FMD40-020 (-40° F Dewpoint Dryers)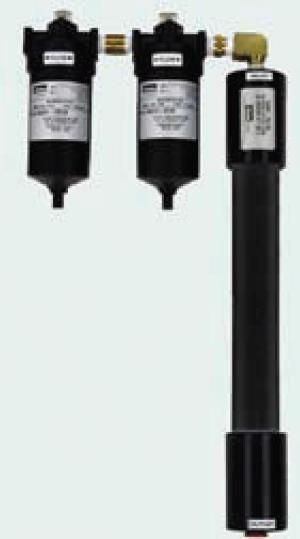 Specifications:
Width
Height

10" (25.4 cm)
22" (55.88 cm)

Port Size

1/4" NPT

Min./Max.
Inlet Pressure

60/150 PSIG
4.1-10.3 bar)

Ambient/Inlet Temp
Range

40o-100o F
(4.4o-37.8o C)

Purge Flow
@ 100 PSI

0.5 SCFM
(.85 NM3/H)

Pre-coalescer Part #
Replacement element:

HN1S-10CW
10C10-025

Coalescer Part #
Replacement element:

HN1S-6CW
6C10-025

Weight

5.2 lbs. (2.36 kg)
Part Number FMD40-050 (-40° F Dewpoint Dryers)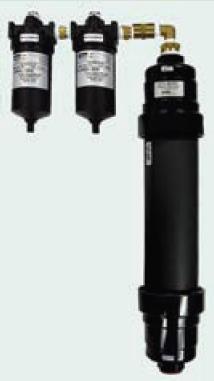 Specifications:
Width
Height

14" (35.56 cm)
26" (66.04 cm)

Port Size

1/2" NPT

Min./Max.
Inlet Pressure

60/150 PSIG
4.1-10.3 bar)

Ambient/Inlet Temp
Range

40o-100o F
(4.4o-37.8o C)

Purge Flow
@ 100 PSI

2 SCFM
(3.4 NM3/H)

Pre-coalescer Part #
Replacement element:

HN2S-10CW
10C10-025

Coalescer Part #
Replacement element:

HN2S-6CW
6C10-025

Weight

13.3 lbs. (3.22 kg)
Part Number FMD40-100 (-40° F Dewpoint Dryers)

Specifications:
Width
Height

14" (35.56 cm)
38" (96.52 cm)

Port Size

1/2" NPT

Min./Max.
Inlet Pressure

60/150 PSIG
4.1-10.3 bar)

Ambient/Inlet Temp
Range

40o-100o F
(4.4o-37.8o C)

Purge Flow
@ 100 PSI

2.5 SCFM
(4.25 NM3/H)

Pre-coalescer Part #
Replacement element:

HN2L-10CW
10C10-025

Coalescer Part #
Replacement element:

HN2L-6CW
6C10-050

Weight

18.9 lbs. (8.57 kg)